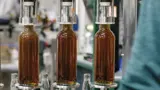 Crafting liquid artistry, one limited edition at a time.
Brand / Strategy / Identity / Guidelines / Design / Print / Digital / Art Direction / Social / Exhibition / Packaging
SMPnet is a UK-based technology provider offering an advanced suite of smart solutions to support efficient energy transition and flexible control of electrical network systems. Their clients include energy service companies, utilities and local energy network providers.
The market is international, cutting edge and highly technical and as such we were required to produce a brand identity and architecture that spoke to this audience. Our solution was to position the business and their products as essential to the energy transition and development of future energy distribution.
This was achieved through a strong, bold identity that has a high degree of flexibility and is underpinned by a strong visual language. A series of illustrations and iconography were developed to demonstrate different aspects of the business, this has helped the client encapsulate the brand essence without being overly technical or confusing.