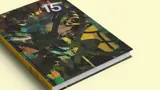 A showcase of 15 years of blood, sweat and a few tears.
Fifteen celebrates the last 15 years of creative work at Fourtwentyseven. It is a publication designed to be a celebration of what has been achieved since we opened the doors but also an opportunity to be expressive and inquisitive through our process. The book has been shared with our clients and suppliers and acts as an item of self-promotion.
As well as being a retrospective we wanted this piece of work to create a new perception of how we approach design and we have specifically created a more artistic representation of each project. 
Fifteen is designed to document how we are able to push boundaries and engage in conversations through creativity and design. This publication highlights aspects of our studio's award-winning work that are well known and some of projects that might otherwise go unrecorded or unexplored, but it also allows us to document our creative process and gives space to record past and recent trains of thought.