The Hunterian - Alasdair Gray's Lanark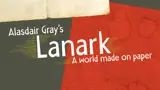 Alasdair Gray's Lanark: a world made on paper.
Brand / Strategy / Identity / Design / Print / Digital / Art Direction / Social / Exhibition
This exhibition, at The Hunterian Museum in Glasgow, marked the 40th anniversary of the publication – in 1981 – of Alasdair Gray's first novel Lanark: A life in four books, one of the greatest masterpieces of 20th-century Scottish literature.
The exhibition uncovers how Lanark was made: from conventional art materials to more unusual double-entry accounting ledgers. Pen and ink combine to shape complex images, ready to be interwoven with the words conjured alongside. All of this can be seen across an astonishing variety of found, recycled and repurposed sources of paper on which the manuscript was drafted and re-drafted.
Our role was to express the principles of Lanark through the creation of the interpretation panels, exhibit labelling, directional signage and a strong visual identity for the exhibition. The design stretched across all the exhibition elements and was developed to sit in not only a physical space but also across all digital and advertising platforms.