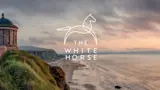 Elegance and heritage unveiled: The White Horse's timeless brand transformation.
Brand / Strategy / Identity / Guidelines / Design / Print / Digital / Art Direction / Social / Signage / Packaging / Apparel
Our collaboration with The White Horse in Northern Ireland involved the creation of their new brand identity and visual architecture. Situated on the stunning North Coast of Northern Ireland, this family-run hotel is a part of a larger global hotel group.
The establishment offers a diverse array of top-tier amenities, encompassing 4-star hotel accommodation, a spacious swimming pool, luxurious spa and leisure facilities, a restaurant and bar, as well as banquet and conferencing spaces. Its historical roots trace back to the 1800s, brimming with a rich and varied past.
Our task was to craft a brand that illuminated the fundamental pillars of the hotel: a dedication to customer care, an emphasis on meticulous detail, and the delivery of a premium guest experience. 
Additionally, the brand identity was intended to offer a comprehensive framework for use across all areas of the business, establishing a uniform brand architecture beneath a core brand identity. The brand incorporates patterns inspired by the diverse heritage of the hotel's owners, fusing Middle Eastern design elements with Irish sensibilities, thereby reflecting the rich and varied cultural influences within the establishment.