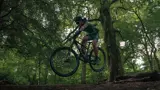 Developing a series of bespoke clothing for the UCI Cycling World Championships.
Strategy / Design / Print / Art Direction / Social / Content / Apparel / Exhibition
The UCI Cycling World Championships made their way to Glasgow in 2023, and we were thrilled to be a part of this groundbreaking event. Our collaboration with ostreet, Stuco Design, and Paddy Hughes resulted in the creation of a striking set of jerseys for Santini Cycling.
Comprising three distinct designs – mountain, city, and cloudscape – the jerseys draw inspiration from Scotland's Saltire flag, unifying all three into a cohesive collection.
Our focus on the mountain jersey involved working closely with Stuart from Stuco. The design seamlessly merges analog and digital textures derived directly from Scotland's forests and countryside, utilizing elements like forest bark, rubbings, leaves, and pine needles to craft a tactile and authentic design.
Collaboration with: ostreet / Stuco / Paddy Hughes

Photography: Georg Mew Jensen