Scottish National Whisky Festival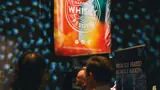 The definitive whisky tasting and Scottish cultural experience, capturing the spirit of Scotland.
Brand / Strategy / Identity / Guidelines / Design / Print / Motion / Art Direction / Social / Exhibition / Apparel
We collaborated closely with the client to craft an extensive brand identity strategy, encompassing on-site exhibition graphics, festival programs, advertising materials, and diverse social content for the Scottish National Whisky Festival. This event serves as a vibrant tribute to the essence of uisge-beatha, celebrating the rich tapestry of Scotland's national drink, culinary delights, and traditional music.
Featuring a grand showcase of Whisky, each edition of the festival comprised more than 50 tasting stands offering an array of exceptional drams sourced from Scotland and various global regions. Attendees were treated to immersive masterclasses guided by esteemed whisky connoisseurs, complemented by live musical performances and a variety of local food stalls, creating a multifaceted and enriching experience.